FIBARO Flood Sensor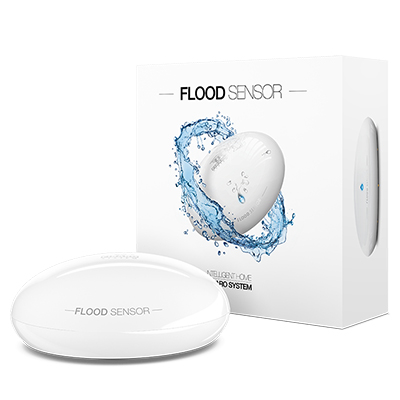 FIBARO FLOOD SENSOR
Product Overview
FIBARO Flood Sensor is a universal, Z-Wave compatible, flood and temperature sensor. The device can be battery or DC powered (12 or 24v DC). It comes equipped with three gold probes for monitoring and reporting any flood condition. These events can be reported to the Z-Wave network, other devices and additionally to any existing alarm system via a normally closed (NC) contact. The Flood Sensor also comes with a built in temperature sensor.
The device is designed to be placed on the floor or fitted to a wall with the sensor's probe extended via a connecting wire. The device has a built in LED and sound alarm. It also comes equipped with a tilt sensor which reports any movement such as the device being moved from its fixed monitoring location.The FIBARO Flood Sensor is sink-resistant and capable of sending alarm signals while floating on water.
HIGHLIGHTS
Unique, floating design
Detects flooding or fire
Battery or DC powered
Communicates with a Z-Wave network or a wired alarm system
Features wireless software update
Technical Data
Power Supply: 12 – 24v DC
Battery Type: CR123A
Power Consumption: 0.4W
Output terminals maximum current carrying capacity (ALARM NC, TAMP NC): 25mA
Maximum voltage at output terminals: 40V (AC or DC)
IN standards compliance: EMC 2004/108/EC, R&TTE 199/5/WE
Radio protocol: Z-Wave
Range: up to 50m outdoors up to 30m indoors (depending on building structure)
Operational Temperature: 0°C – 40°C
Measured temperature range: -20°C – 100°C
Temperature measuring accuracy: 0.5°C (within 0°C- 40°C range)
Dimensions (Diameter x Height): 72 mm x 28 mm
Use Case
1. It rains for a few days and water flooded the basement? Flood Sensor will send you information about the incident as soon as the first drops are detected. From now on, you can always react very quickly to prevent serious damages.
2. Flood Sensor will help you to configure underfloor heating. The device, put on the flood, sends temperature readings to the central unit. A properly configured system automatically adjusts settings of the heating to the preferences of family members, without putting you at the risk of higher bills.
3. Small leak unnoticed for a longer time may cause serious damage at your home. Flood Sensor placed under the bath or sink will inform you quickly, even when the smallest amount of water is detected. Now, there is no need to worry about losses caused by leakage.
Brochure
Video