FIBARO Dimmer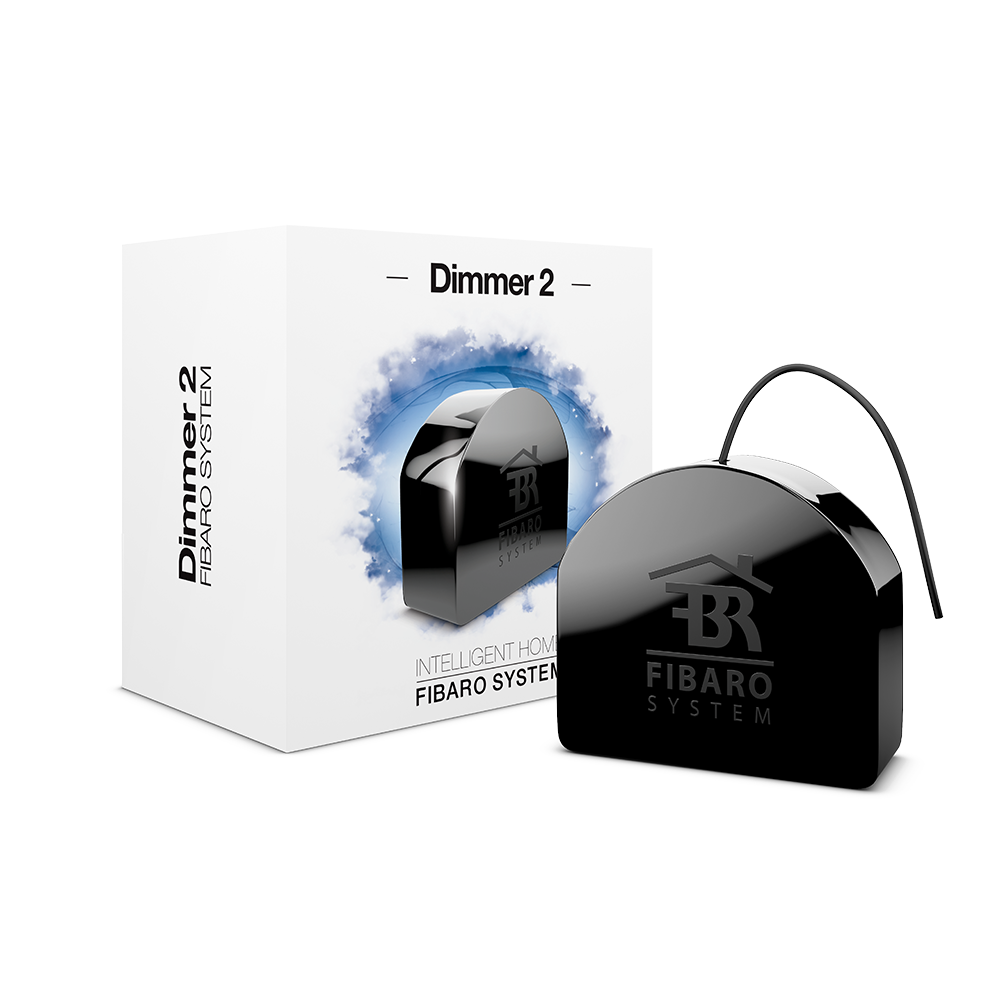 FIBARO Dimmer 2
Product Overview
FIBARO Z-Wave Dimmer 2 insert module retrofits into an existing light switch enabling you to wirelessly control lights. The new Dimmer 2 is a true universal dimmer - automatically selects the most suitable dimming type (trailing-edge or leading-edge) based on the bulb type used. It measures the power being used and reports that to the Z-Wave system and it is fully Z-Wave Plus certified - offering increased range, extended battery life and Over The Air upgrading (OTA).
Product Highlights
Works with incandescent bulbs, 230V halogen, 12V halogen and dimmable LEDs
Detects the bulb type and adapts the dimming behaviour:

Trailing-edge dimming - incandescent and halogen bulbs (resistive)
Trailing-edge dimming - LEDs and other resistive-capacitive bulbs
Leading-edge dimming - transformers and other resistive-inductive loads

On/Off mode - supports non-dimmable loads (3-wire installation)
Monitors and reports power - instantaneous (W) and accumulated power (KWh)
Auto-off Timer - turns lights off after programmed time period
Maximum load 250W (resistive), 225VA (resistive-inductive) and 200VA (resistive-capacitive)
Supports 2-wire (no neutral) and 3-wire installations - further information is in our 2-wire/3-wire guide
Second switch input for controlling additional associated devices or 2-way installations
Various switch types - momentary (default), toggle, 1-way and 2-way
Technical Data
Wireless: Z-Wave and Z-Wave Plus (865.2MHz)
Voltage: 110 - 240V AC
Loads:
50 - 250W Resistive
50 - 225VA Resistive-Inductive
50 - 200VA Resistive-Capacitive
Power Consumption: < 0.8W
Range: up to 50m (outdoors) and 30m (indoors)
Dimensions (LxWxH): 43 x 38 x 22mm
Use Case
1. Dimmer 2 helps to reduce the expenses on lighting. Dimming bulbs permanently by 15-20% is unnoticeable and harmless for eyes and helps to lower the electricity bills.
2. It is a middle of the night and you need to visit the bathroom. You turn the light on, but it blinds you, rather than illuminate your way. With Dimmer 2 lights at night will turn on slightly dimmed, gently illuminating your way.
3. Dimmer 2 will turn light switches buttons into a scene trigger. Activation of the selected scene becomes as simple as turning the light on: just press the button while entering the room!
BROCHURE