FIBARO RGBW Controller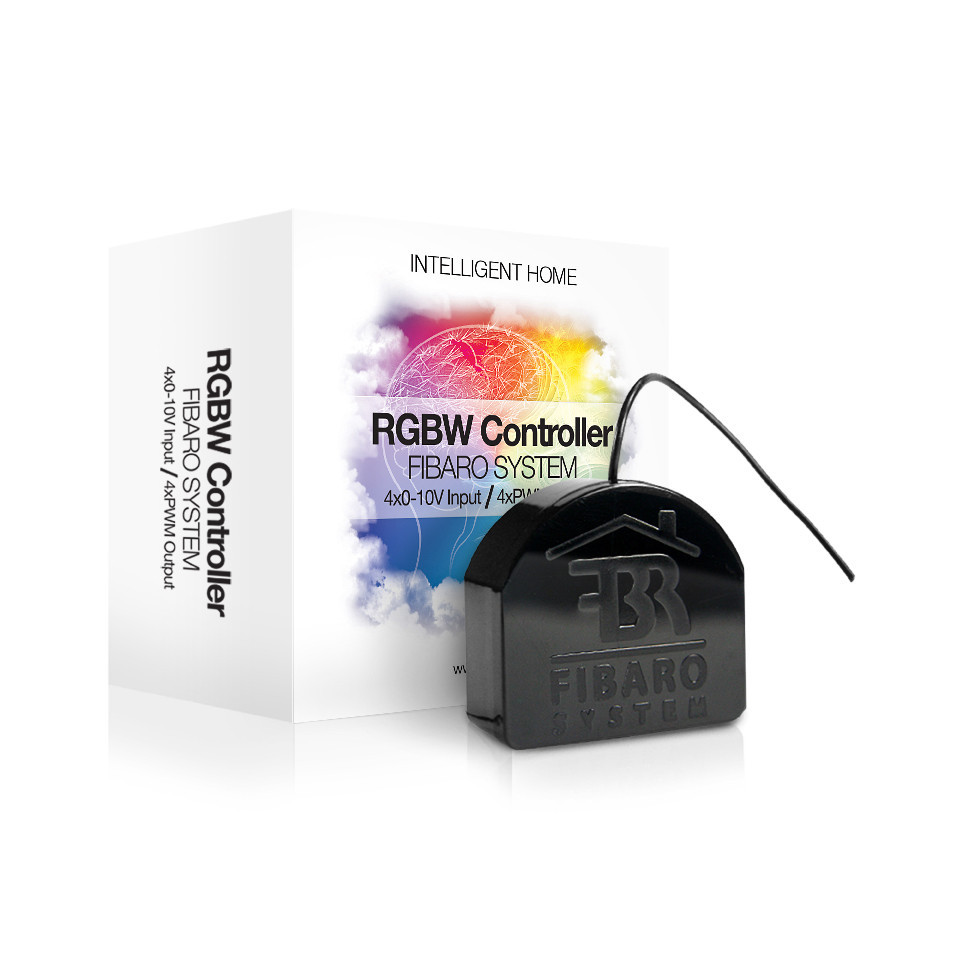 FIBARO RGBW Controller
Product Overview
The FIBARO RGBW Controller is a universal, Z-Wave compatible RGB / RGBW controller. The controller features four PWM outputs for controlling LED, RGB, RGBW strips, halogen lights and fans.
Controlled devices may be powered by 12 or 24 VDC. In addition, the RGBW Controller supports up to four 0V – 10V analog sensors such as temperature, humidity, wind, air quality and light sensors. Each of the 4 IN and OUT terminals can be configured for LED control or 0V-10V signal readouts.
Product Highlights
Live and historical power consumption measuring.
Capable of being controlled and synchronised with FIBARO devices and other Z-Wave controllers.
Most advanced device of its type in the world.
Technical Data
Power source: 12V DC / 24V DC,
Rated output power: combined 12A (sum of all connected outputs),
Max load (e.g. Halogen lamps) at 12V – 144W combined and 24V – 288W combined.
Power consumption: < 0.3W
Antenna range: up to ca. 50 meters outdoor, or up to 30 meters inside (depends on building structure),
Outside dimmensions (L x W x H) 42mm x 36mm x 15mm.
Use Case
1. Unleash imagination and express yourself with colour LED strips! With RGBW Controller you can easily adjust the LED lighting in the bathroom to the temperature of the water in the tub or the weather outside. The device can be connected with any 4 analogue sensors, e.g. pressure, humidity or temperature sensor. There are 3 million colours at your disposal!
2. The car has to be parked in a small garage and you are worried about the scratches every day? Colour changing LED strips, proximity sensor and RGBW Controller will make parking much easier. The colour of lighting will change, depending on the distance between the car and the walls. Pure pleasure!
3. The intuitive interface will allow you to fully exploit the potential of colour changing LED strips. RGBW Controller, together with your smartphone, is enough to change your living room beyond recognition. The colours can be easily adjusted, depending on the mood or occasion. One tap on the colour palette and the room adjusts to your needs. A romantic dinner, visit of your friends or an evening with a book? You decide!