FIBARO Universal Binary Sensor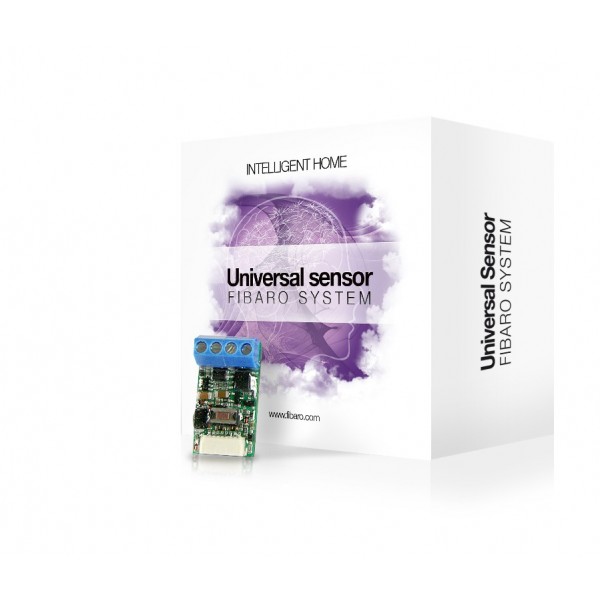 FIBARO Universal Binary Sensor
Product Overview
The FIBARO Universal Binary Sensor is a unique wireless module for enhancing the functionality of any existing binary output system. The sensors enable such devices to communicate wirelessly with the FIBARO smart home system.
The module also functions as a wireless temperature sensor system when connected to the DS18B20 temperature sensors. Each module can service up to two binary sensors and four DS18B20 temperature sensors. The Sensor was designed for installation inside the housing of another device whose functionality is to be enhanced (e.g. an alarm PIR sensor).
The Universal Binary Sensor is ideally suited for the wireless collection of data from other sensors. Once the appropriate additional safety housing have been installed, the sensor can be used in areas with high humidity and temperature.
The sensor is often used for integrating the FIBARO system with existing alarm and measurement systems. Its sits in line and is completely transparent to the instrumented system thus allowing it to function normally as before.
Product Highlights
Controlled with FIBARO system devices or any Z-Wave controller
Compatible with regular and parametric alarm lines (can be connected to 2 alarm detectors)
Compatible with binary sensors (can be connected to 2 binary outputs)
Compatible with DS18B20 temperature sensors (can be connected to four DS18B20 temperature sensors)
Technical Data
Supply voltage: 9-30v DC ±10%
Input: 2 potential-free inputs, 1 digital input 1-wire
Output: 2 potential-free outputs
Maximum current carrying capacity of outputs: 150mA
Maximum voltage at output contacts: 36v DC / 24v AC ±5%
Operating temperature: 0 – 40 °C
Number of servicing temperature sensors: 4
Measurement range: -55 °C – +126 °C
Radio protocol: Z-Wave
Range: up to 30 m in buildings (depending on the construction materials) up to 50 m in the field
Dimensions (L x W x H): 14.5 x 27.3 x 12 mm
Use Case
1. There is no need to wonder whether you forgot to turn TV or lamp in the bedroom off. Universal Sensor FIBARO enable to communicate within Z-Wave network and run multiple scenes. With only one button you can turn all appliances and lights off when leaving home. It is a simple way to reduce unnecessary energy loss, bring your bills down and take care of the environment.
2. You overslept again and did not have enough time to drink your morning coffee? With FIBARO you can easily design your perfect "wake up" scene. In the morning system raises the temperature in your room and opens the blinds. Coffee machine is switched on automatically when the motion is detected on the way to the bathroom. How will you make your morning brighter?