FIBARO Home Center Lite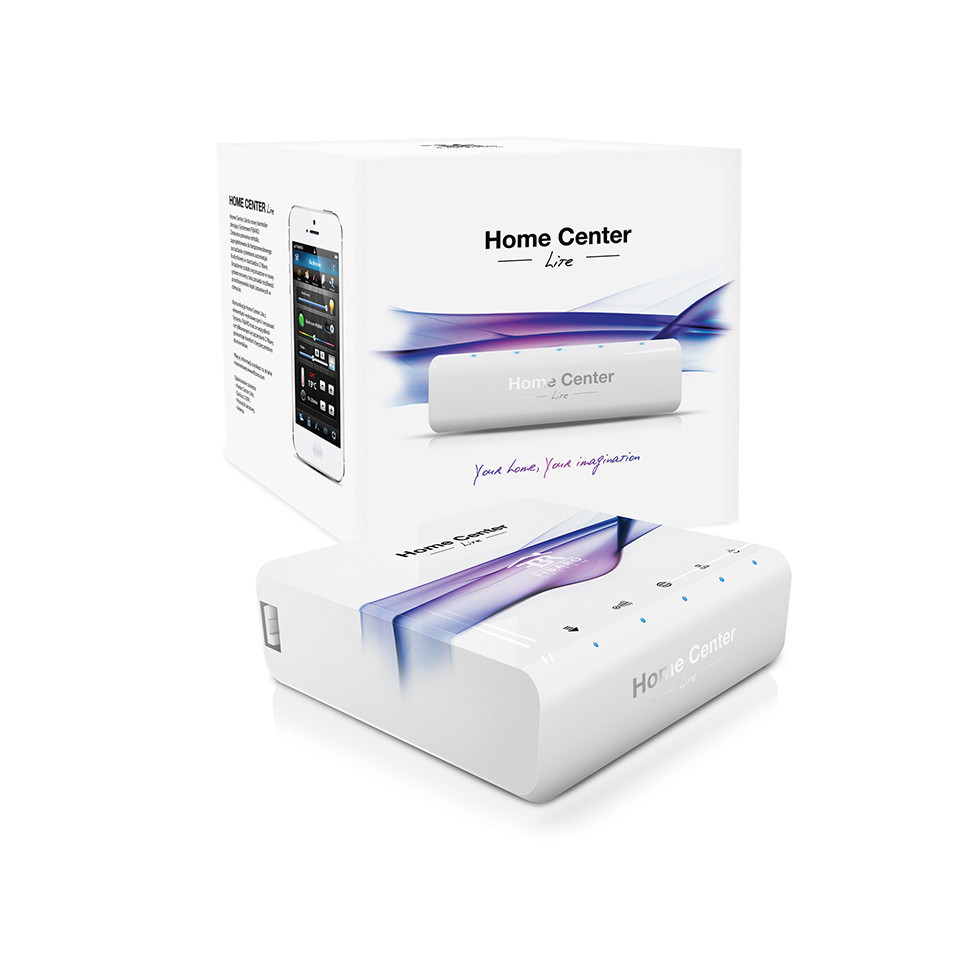 FIBARO Home Center Lite
Product Overview
FIBARO Home Center Lite (HCL) is a new, sleek and smaller version of the FIBARO controller that inherits many of the features of the Home Center 2 allowing you to automate the things that matter to you everyday. HCL is equipped with a new recovery system and has the ability to store backups in the cloud for added peace of mind. Its modular design allows for the addition of features such as a battery and GSM module*. The Home Center Lite will allow for even greater integration of home multimedia with FIBARO System.
Home Center Lite vs Home Center 2
The larger Home Center 2 comes with a number of additional features not found in the Home Centre Lite. These include:
Advanced scene creation via the LUA programming language
Voice control via a feature called Lili
Voice Over IP (VOIP) features.
Product Highlights
The fastest device of its type in the world
Ultra low energy consumption
Remote access via smartphone, tablet apps and web
Very intuitive and user friendly interface
Fast and simple configuration
Dimensions – 90 x 90 x 33mm
Geo localization – knowing the whereabouts of your loved ones
Manageable users rights and permissions
Intelligent device linkage and association
Conditioning scenes depending on weather, time of day, events and other parameters
Advanced recovery system
System backup is always saved on attached pen drive, hidden in the casing
History of events.
Technical Specifications
Wireless technology: Z-Wave
Antenna: External High Gain
Network Interface: 10/100/1000Base-T (Gigabit) Ethernet via RJ45 connector
Processor: ARM Cortex-A8
Power: 9-12VDC (Power Supply included)
LEDS: Power, Status, Ethernet, LAN, Z-Wave and etc.
Dimensions (LxWxH): 90 x 90 x 33 mm
Use Case
1. Home Center Lite will take care of your garden and water you lawn. Sprinklers will be activated automatically, but only if it is not raining. Home Center Lite collects meteorological data and allows you to create scenes associated with the weather.
2. Home Center Lite provide the geolocation features which allow you to check where other family members are. From now on, you will always know what are your children doing and when the dinner should be ready.
3. Home Center Lite collects the data on weather conditions. When the rain is expected, the system automatically sends you a notification about the opened windows and asks if you want to close them.
Brochure
Video