FIBARO Motion Sensor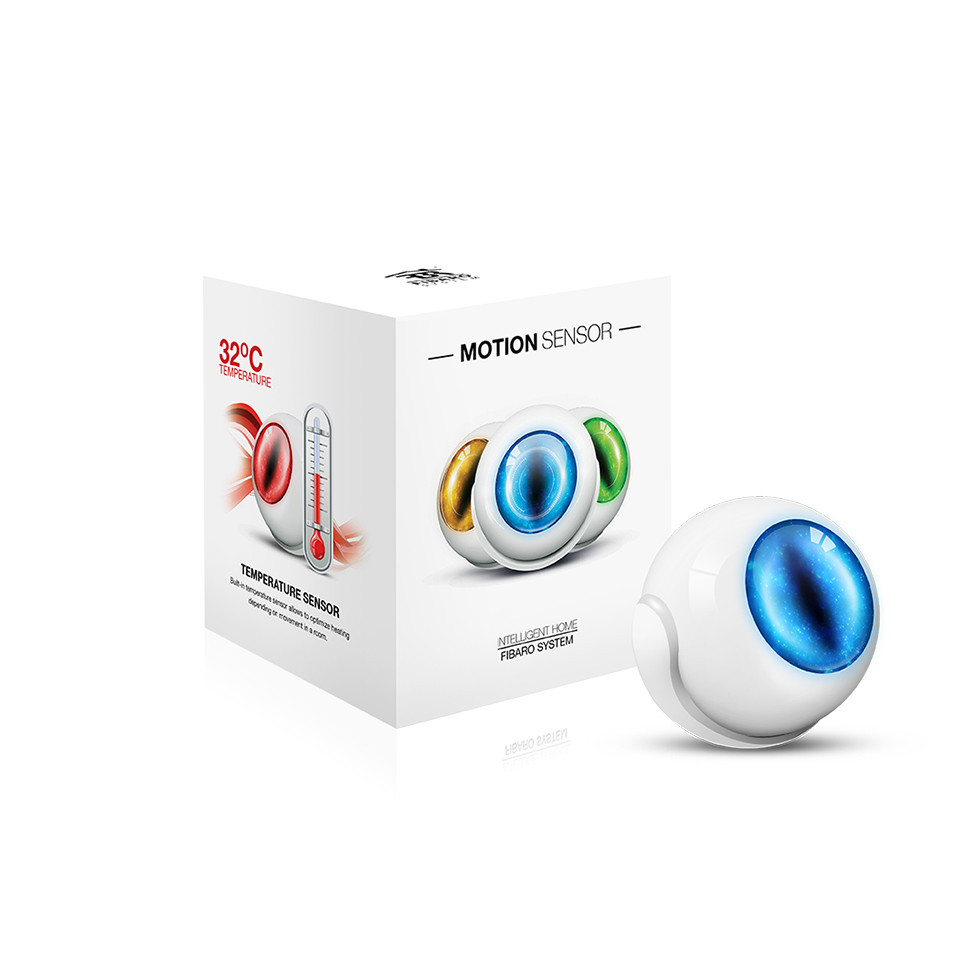 FIBARO Motion Sensor
Product Overview
The stunning FIBARO Motion Sensor is a universal Z-Wave multi-sensor. Along with detecting motion the device measures the temperature and light intensity in the area. The sensor has a built-in accelerometer to detect any tampering of the device.
The FIBARO Motion Sensor is battery powered and designed to be installed quickly and easily on any surface. The LED indicator signals motion, temperature level and operating mode. The motion sensor can be used for lighting scenes and security monitoring systems.
Product Highlights
Unique design
Detects event the slightest motion and changes in temperature
Battery powered
Wireless communication via Z-Wave protocol
Features wireless software update
One of a kind, earthquake detection functionality.
Technical Data
Power Supply: CR123A battery, 3.6 VDC
EU directive compliance: LVD 2006/95/WE; EMC 2004/108/WE; R&TTE 1999/5/WE; RoHS II
Recommended installation height: 2.4m
Operational Temperature: 0 – 40°C
Measured Temperature Range: -20 to 100°C
Temperature Measuring Accuracy: 0.5°C (within 0°C-40°C range)
Light Intensity Measuring Range: 0 – 32000 LUX
Radio Protocol: Z-Wave
Range: up to 50m outdoors; up to 30m indoors (depending building structure
Use Case
1. How often does it happen that one of family members forgets to turn off the light? Motion Sensor integrated with lighting system is a simple way to save the energy. Lamps will automatically turn on when someone enters the room and turn off when no movement is detected.
2. Children during their innocent plays may become a reason of minor damages at your home. How to protect your jewellery, important documents or expensive cosmetics from their creativity? Motion Sensor is a small device which will take care of your valuables. When the sensor detects movement in the room, the information will be sent to your phone. It is your decision what actions should be taken later.
3. Your child does not like to fall asleep when it is dark in the room? Thanks to Motion Sensor there will be no need to get up and turn off the lamp in a child's room. The sensor will turn off the light automatically after the child falls asleep and stops moving in the bed.
4. Are you worried that your child will wake up at night and wander around the house unattended? Motion Sensor will send you a notification whenever motion is detected in the hallway at night.
5. Motion Sensor turns on the lights in the room when motion is detected, but only if it is necessary. Built-in light sensor allows the device to distinguish day from night. Lamps will be turned on only after sunset or on a cloudy day.
Brochure
Video