FIBARO Smoke Sensor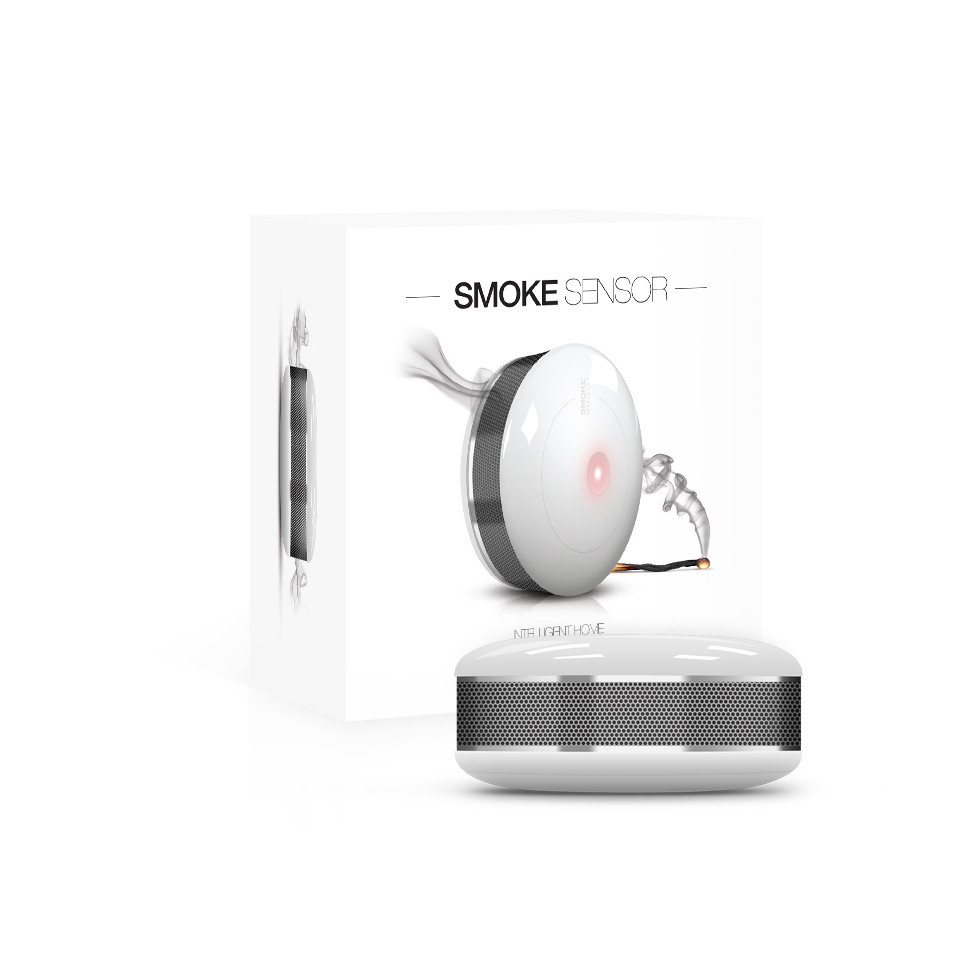 FIBARO Smoke Sensor
Product Overview
The FIBARO Smoke Sensor is a universal, Z-Wave compatible, optical smoke detector. The device can be battery powered (battery life approx. 3 years) or DC powered (12 or 24v DC). A Smoke alarm is signaled by a speaker, blinking LED diode and through operating commands sent to the Z-Wave network devices. Additionally, smoke alarm notification may be sent to an alarm system or fire alarm system hub, through a NC contact terminals opening.
Optical detector allows for detecting smoke at an early stage of fire, often before flames appear and temperature starts to rise significantly. Moreover the device has a built-in temperature sensor, which can also trigger the alarm once the specified temperatute threshold is exceeded. FIBARO Smoke Sensor is designed to be placed on a wall or ceiling. LED signaling diode signals fire, operating mode and may serve as the Z-Wave network range controller. The sensor is designed to operate in confined spaces, under normal conditions (lacking smoke, dust, condensed water vapour).
Product Highlights
Unique design, assures the detection of even the smallest amount of smoke
Detects both the presence of smoke or the rapid change in temperature
Battery or DC powered
Communicates with a Z-Wave network or a wired alarm system
Features wireless software update.
Technical Data
Power Supply: 12 – 24v DC
Battery Type: CR123A
Power Consumption: 0.4W
Output terminals maximum current carrying capacity (ALARM NC, TAMP NC): 25mA
Maximum voltage at output terminals: 24v (AC or DC)
EU standards compliance: EMC 2004/108/EC, R&TTE 199/5/WE
Radio protocol: Z-Wave
Range: up to 50m outdoors up to 30m indoors (depending on terrain and building structure)
Operational Temperature: 0°C – 40°C
Measured temperature range: -20°C – 100°C
Temperature measuring accuracy: 0.5°C (within 0°C- 40°C range)
Dimensions (Diameter x Height): 65 mm x 28 mm
Use Case
Smoke Sensor installed in the kitchen will send you a notification every time someone leaves a pan on the burner for too long. There is no need to worry about kids and their culinary experiments. With your smartphone you can always turn off the oven no matter where you are.
Brochure
Video